The latest update for the game 7 Days To Die, which is 1.14 version, has recently dropped in. This update includes gaming consoles like PS4 & Xbox One. I would like you guys to check the your consoles for 7 Days To Die PS4 update as well as Xbox update. We are here to do a brief analysis of the 7 Days To Die update. There is loads of stuff to discuss. We'll going through each single patch notes. Without wasting anytime, let's get started.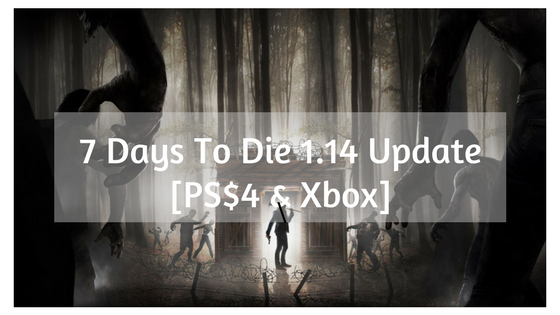 Did I just say patch notes? Yes, I did. So I personally think that patch notes are really hyped and anyone who expected electricity & NPC trading is going to be disappointed. However, there have been some really need bug fixes and features from alpha 16 have also been seem to be added. This pretty much consoled our faith that the regular updates will be along the way. Well then, I think I'll start taking the patch notes now and slowly move forward to the new stuff that has been added to this latest 1.14 version of 7 Days To Die.
7 Days To Die Update [PS4 & Xbox One]
The 7 Days To Die update can basically be broken down under 2 things. Part of the update can be used by players who start the game all over and the rest can be used irrespective of your progress status into the game.
Brand New Sky & Weather Effects
One can say that the update has brought up these sky & weather effects at level par with that of PC, when comparing to PS4 & Xbox One. The daylight looks perpetual, the clouds are nice & clear & the night time is complemented by a moon.
Workbench Enhancement
The workbench had been improved drastically. Various items can be integrated to come up with a better quality item. That means you can let your creative juices flowing in to upgrade the items by combining them, which otherwise were often left half done & half prepared. Even the items of crappy quality can be used to repair the Bexar items. Lastly, if needed, you could take down the workbench with the help of a wrench.
Lootable Gore Blocks
The zombies whom you attack after dying will turn into a gore block a lot quicker. Upon subjecting them to enough damage, you won't have to spend time figuring out whether they're dead already as they turn into the gore block instantly.
New Saves For New World
50 New Items: Now if you're looking to start a brand new world save, then you'll be rewarded with 50 new items that have been added to the patch 10. These items include, new types of plants, hosta ball & various types of scraps. Even the clothing line has been revamped. The small clothing items like masks are also available to customize the avatar. Some looks will actually make you say that the game does look better after the update.
New Blocks
There has been an addition of over 100 new blocks. Several of these new blocks help level out the existing block sets, that can help you build drunk castle. They've also got toggleable lights, draw bridges as well, and a new crafting station which I believe is a chem bench. However, you'll have access to these stuff only if you start a new game. The draw bridge will certainly open up new possibilities as players could add a delay. Finally, the players can now make a prison! Yeah, you read that right.
You can even build catalogues & tree houses. Now that's some epic shit. That's actually a variety instead of building some ten wolf bases. All the pictures displaying new blocks look really good.
Farming Improvements
The concept of fertilized line has been added along with four new seed types with different colors. But again, to access these a new game has to be started.
New Recipes
60 new recipes have been added to the game. These recipes will be in accordance with the new blocks & farming improvements. Not to forget 4 new seeds which will be integrated with the new recipes.
Chemistry Station
The new craftsmen station is the chemistry bench. To me, it looks like a souped up better version of the campfire.
Skill Update & Balancing
The balancing have received a good share of changes. Two new skills have been added to the chemistry station and two of them were removed. All these new features will be available to the players who start a new game with patch 10.
Along with the features, lot of bugs & problems have been fixed. There are just too many to list here, so I'll skip this part and you can probably experience the change yourself while playing the game.
Now the popular question asked, is that enough? Well I think it completely depends on the expectations the players had. For those who imagined too much won't be satisfied but realistically, I do think it's a great effort to introduce new flavors to the game, 7 Days To Die. The information here was inspired from the video attached below.