After the government made it mandatory to link the Aadhaar Card and PAN card details online, there has been a crazy rush on the Income Tax website to complete the compliance by 30th June.  This has led to slow processing and crashing of the server on www.incometaxindiaefiling.gov.in. When an attempt is made to link the two cards, an error with the following message flashes on the screen "Technical Error at UIDAI. Please try again". This has been a cause of concern for many people in the past few days who are trying to link the two cards.
Many people are interpreting that "if they don't link the Aadhaar and PAN card details by 30th June, their PAN will become invalid". This is not true, the linking of two cards is mandatory from 1st July on every return filing but there is no such notification from the government that the PAN card would immediately become invalid. The government has not given any deadline date yet to make the PAN card invalid. In the coming days, the government may roll out a deadline date to link the Aadhaar and PAN card. Upon failure to link the cards by the date specified by the government, your PAN will become invalid. The department till now has linked more than 2 crore Aadhaar numbers with the PAN.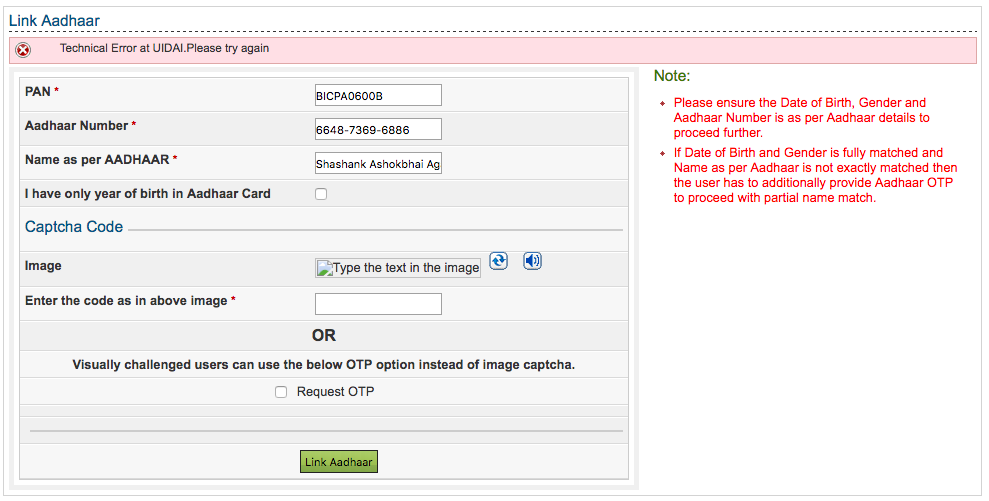 How to link Aadhaar with PAN?
You can link your Aadhaar card with the PAN card in any of the two ways:
In the first way,
Login to your account on e-filling portal
Go to the "Profile Settings" option and select "Link Aadhaar"
Just fill the required details like Aadhaar number, name on Aadhaar card and click on "Link Aadhaar" option.
If your linking process is rightly completed, you will get the message "Link Aadhaar Success" and a confirmation email. In case there is some error in linking process, you will get the unsuccessful
The second option to link Aadhaar card and PAN card is by sending SMS to 56161 or 567678 from the registered mobile number of the Aadhaar card. The message must be sent in this format: UIDPAN<12 digit Aadhaar><10 digit PAN>