Creehack is an ultimate app in the market available right now to tweak android games. Creehack is the latest app which serves this purpose, but Lucky Patcher is one of the most popular app till date. Creehack can be used to achieve various lucrative, though unethical needs. Creehack basically can be used to tweak various other apps in your smartphone. But, many people are still unaware of how to use CreeHack app efficiently. In this article we will explain how to use Creehack android app in detail. We will cover a few tutorial of games to demonstrate the use of Creehack app.
What Can You Do With Creehack App?
Creehack can perform many unbelievable actions. Most of them will result in your advantage. In any case using creehack, we can dupe any android application. By doing so, we can avail the premium features of any android app using Creehack. For instance, you can purchase any items in any android game without paying even a penny. To take an example of game, you can kind of hack Shadow Fight 2 using Creehack and get all the paid items in the game for free.
If you're using many utility apps, then Creehack will help you a lot. It is very unlikely that you have purchased the premium version of any app. You are most probably using a free version of that app. But, using Creehack you can bypass license verification of any android app. Yes, this means that you get any android app for free using Creehack. Moreover, you don't even need to root your smartphone in order to download Creehack app for android. If you haven't downloaded and installed Creehack apk till now, then please use the link above to download it.
How To Use Creehack App To Hack Shadow Fight 2?
Open CreeHack app from the menu,
You will find that the status of app is disabled.
So tap on the button in front of your screen.
This will enable the Creehack App.
Now Start the Shadow Fight 2 game.
Go to the menu in the game where you can buy premium items.
Click on the buy button.
You shall see an option to either "buy" or "cancel".
Tap on the "buy" option and see the magic.
You will see that your account of items in the game will shoot up.
Surprised? Yes, Creehack has the power to give you unlimited gaming items for free. However, Creehack has it's own limitations. Creehack can not be expected to work with every game. You will not able to claims free coins and gems in all the games using Creehack. But, you will see the Creehack app showing it's magic in most of the android games.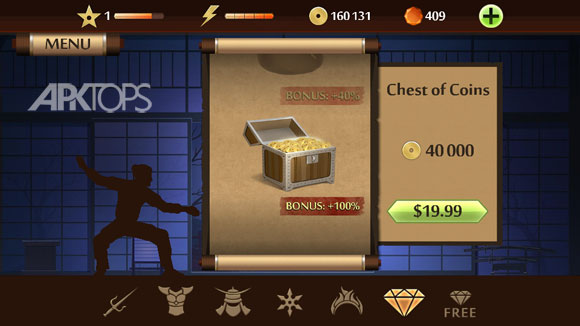 The only way to find out which apps can be manipulated by Creehack, you'll have to try Creehack app out yourself. It won't be a troublesome task. You can see that Creehack works in a simple way with just one click of button. Just try the above steps in all the games which you have installed in your smartphone. I hope you're clear with the question of how to use creehack. You can also download Lucky Patcher app for android, which offers lot more features than Creehack.
Meanwhile you can also check out the video for the demonstration below. You will understand the working of Creehack in a better way.