Mobomarket app store is the new alternative for the Google app store. Android users can now look for new opportunity to grab various apps using the Mobomarket app. Google app store has been a good host for all the android apps since the inception of android operating system. However, it has failed to include the latest and innovative apps in it's domain. For this reason, many third party app stores have started gaining popularity. One of them is Mobomarket app store. Today we will discuss everything about Mobomarket app, including how to download Mobomarket app and install Mobomarket app.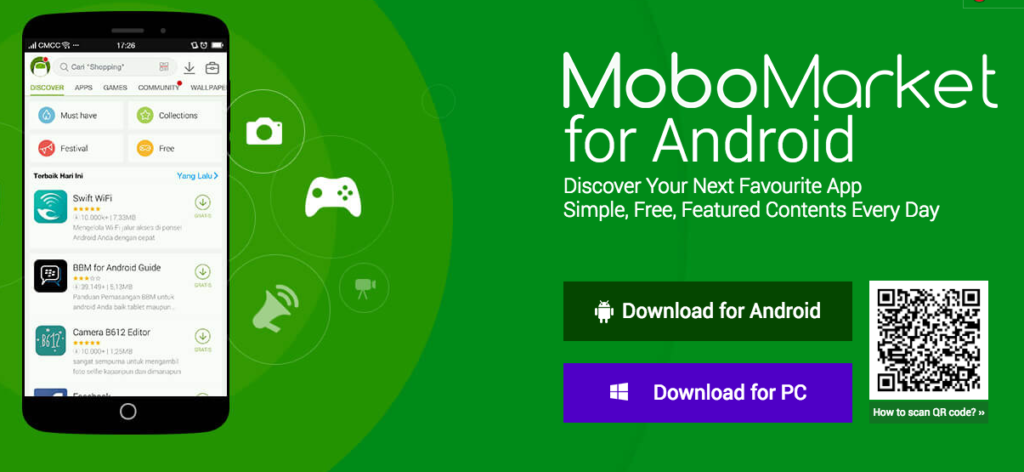 Mobomarket App Store
Mobomarket app store consists of more than 800.000 apps which belong to different categories like games, health, utilities, kids, etc. Moreover, you can get a list of apps which are popular in your locality. One can simply enter the location to check which apps are most popular in the your location. In fact all of these apps will be available in your native language.
Moreover, the Mobomarket app store has employed the experts who are 24×7 active in picking best apps. This means almost everyday you are bound to get variety of apps filtered objectively for delightful experience. One of the major facilities provided by the mobomarket is that you can even backup your important files over their servers and access them as per your convenience. Mobomarket also has a PC client which can be used to sync your smartphone with it by just one click.
How To Download Mobomarket APK For Android?
Go to this official website http://www.mobomarket.net/
You will see a mobomarket download link for android and PC.
QR code will also be available besides it.
Using either the QR code or the link to download mobomarket apk.
Now go ahead and find the Mobomarket apk in your smartphone.
Start the installation and wait till it gets completed.
Open the mobomarket app from the home screen.
That's about it. Now you can browse through the vast Mobomarket app and download new apps everyday. I would also suggest everyone to download Mobomarket for PC. It's basically a PC client for Mobomarket which can help you a lot in keeping your smartphone organized. Moreover, it will make installing apps from Mobomarket easier.
There many such third party app stores which have momentarily frown popular in past few years. Aptoide is also a app store like Mobomarket which has many more apps available other than those in the pay store. In case you fail at any step in mobomarket download or installation, let us know in the comments. We will try to help you out and make the things well. Meanwhile, you can also checkout other articles on Appsjail. You surely find some gems from here.