Recently we wrote an article about how to get joysticks in Pokemon Go. Well, lately many developers have released the tweaked version of Pokemon Go. These tweaked Pokemon Go versions by default contain joystick. Hence, it saves lot of time as we don't necessarily need to install any other app. In this article, we are going to list all the possible ways in which hacked Pokemon Go can be installed in iOS and android smartphone. This even includes the Pokemon Go iPhone hack.
All the methods to download hacked Pokemon Go have been tried and test by the users. Not all of them have 100% success rate, but most of them will work for sure. Users might have to uninstall the original Pokemon Go in order to use the tweaked Pokemon Go iPhone or android version. We will demonstrate all the steps required for downloading and installing the hacked version of Pokemon Go here.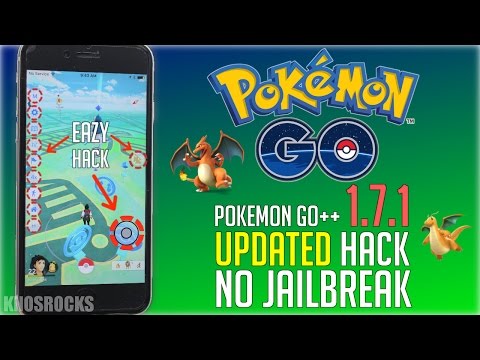 Tutuapp | Tutuapp VIP [iOS/iPhone & Android]
I know that we have already mentioned the tutuapp in most of our articles regarding Pokemon Go hacks. But, we just can't help. It's the users choice which matters. And it seems that Tutuapp is loved by all, which also indicates that Tutuapp works for most of the people. Hence, you can check below the procedure to install and download tutuapp for iOS and android.
Open the Safari browser and go to this link.
On this page, tap on the green Chinese button to download Tutuapp iOS.
It will take few minutes for the app to get installed.
Once installed, open Tutuapp.
You will find two version of Pokemon Go.
Install the one which is hacked version.
You can check the screenshots of both to know which is tweaked.
iOSEMUS Tweaked Pokemon Go
Although Tutu app is very popular, but many people have been complaining that Tutuapp throws many error during installation. So, if you're looking for a tutuapp alternative, then iOSEMUS has to be the one. Using this tweaked version of Pokemon Go you will be able to hack many aspects of the game. Go through the steps below to download and install the iOSMUS Pokemon Go hacked version.
Launch the Safari browser and go to this link.
You will see an install button. Tap on that.
You might get redirected to settings.
If that happens, just go to Profiles & Device Management in General.
Here simply trust the iOSEMUS developers.
After that the iOSEMUS app will get installed in your iPhone.
Open the app and look for the Pokemon Go game.
This Pokemon Go is a tweaked version with many hacks.
iEnchantify Pokemon Go
iEnchantify is also a great place to look for tweaked iOS apps. I won't give more time here. Pokemon Go tweaked version can be downloaded from iEnchantify website without any difficulty. Just go through the iEnchantify website and follow the procedure same as give above.
Cydia Impactor Pokemon Go Hack
Cydia Impactor is yet another great source of hacked iOS apps. Using this Pokemon Go hack with Cydia Impactor, the users will get access to a joystick. Using this joysticks the players can move around in the Pokemon Go map without moving even a bit. This means that users can catch Pokemon from any place in the city comfortably while sitting at home on a sofa. The walking speed can also be controlled. This will increase the efficiency in hatching eggs. Users can simply switch on the patrol mode and keep the mobile phone for some time. This will keep the player moving infinitely to just hatch the eggs.
So how to install this amazing tweaked Pokemon Go hack for iOS?
First of all go to the Cydia Impactor website and install it.
Make sure that you need to download these files in a PC.
Also that PC should have the iTunes installed.
Now connect the iPhone to PC to installed the hacked Pokemon Go.
Open Cydia Impactor after connecting.
This will work only if the Cydia Impactor has detected your iPhone.
So check it and then drag downloaded IPA files to Cydia Impactor.
Enter the Apple ID & Password for verification.
Let the app do it's work.
You might need to go to Settings>General>Profile & Device Management to trust the Cydia Impactor app.
Once the IPA files get installed, launch the Pokemon Go hacked version and that's it.
How To Avoid Pokemon Go Ban After Hacking?
It is very much imperative that Niantic will be sniffing out to keep a check on users hacking the Pokemon Go. So it is essential that users take measures in order to avoid getting banned. We have listed down some of the guidelines, which if followed will help you keep yourself away from the ban for longer.
Never teleport the player from one city to another or one country to another. It becomes very obvious that something it fishy. If you're using the Pokemon Go location hack, then keep this thing in mind.
Do not leave the game open in background while hacking the location for long. Because when you open the game after long time and find yourself at the original location, then it's a sign of trouble. You have just left a footprint which might result in a soft ban from Pokemon Go.
Latest Pokemon Go 1.9.0 Hacked Version
The latest Pokemon Go 1.9.0 version was released recently. In this new release, many hacks of Pokemon Go had stopped working. But a new bunch of developers, Omarxc have released the hack for latest Pokemon Go 1.9 version as well. Please follow the steps below install the tweaked Pokemon Go 1.9.0 version.
Open the Safari Browser and go to this link.
You will see few links about Pokemon Go.
First you have to install the Crash fix.
After it gets installed, download the hacked Pokemon Go version.
Install the hacked version and start using it.
An advantage of getting this tweaked version of Pokemon Go by Omarxc is that you can install the hacked version and the original version both. So in case your account gets banned while using the tweaked Pokemon Go, then you can continue playing the original Pokemon Go. I hope you'll be able to install all these Pokemon Go hacks & tweaks after following out instructions. In case you wish to inquire more about the Pokemon Go tweaked version, then please comment below.